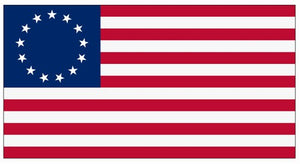 Betsy Ross Flag
The nylon Betsy Ross flag comes with brass grommets and available in 2'x3' and 3'x5' size options. This flag has sewn stripes and embroidered stars. Flag is 100% made in the U.S.A.
100% Made in the USA
The Betsy Ross flag is an early design of the flag of the United States, named for early American upholsterer and flag maker Betsy Ross. Its distinguishing feature is thirteen 5-pointed stars arranged in a circle representing the 13 colonies that fought for their independence during the American Revolutionary War.
Additional sizes available upon request.
---
We Also Recommend