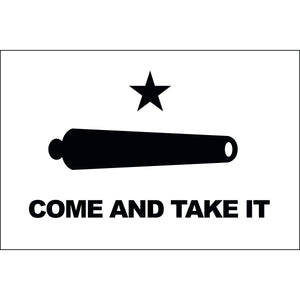 GONZALES Come & Take It Flag
This printed nylon Gonzales 1835 "Come and Take It" flag comes with brass grommets.
Available in multiple size options.
                            100% Made in the USA
The Battle of Gonzales was the first military engagement of the Texas Revolution. It was fought near Gonzales, Texas, on October 2, 1835, between rebellious Texan settlers and a detachment of Mexican army troops.
For more information on the GONZALES Come & Take It flag click HERE.
---
We Also Recommend