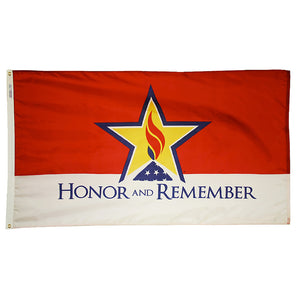 Honor & Remember Flag
Honor and Remember flags show support for all the American lives lost in the defense of Freedom.
Top quality heavyweight nylon, considered the all weather flag
Flag is finished with heading and brass grommets
Looks fantastic outside or inside
Flag Symbolism:
The Red Field represents the blood spilled by brave men and women in America's military throughout our history, who willingly gave their lives so that we all would remain free.
The Blue Star represents active service in military conflict. This symbol originated with World War I, but on this flag it signifies service through all generations from the American Revolution to present day.
The White Border surrounding the gold star recognizes the purity of sacrifice. There is no greater price an American can pay than to give his or her life in service to our country.
The Gold Star signifies the ultimate sacrifice of a warrior in active service who will not return home.
Gold reflects the value of the life that was given.
The Folded Flag signifies the final tribute to an individual life that a family sacrificed and gave to the nation.
The Flame is an eternal reminder of the spirit that has departed this life yet burns on in the memory of all who knew and loved the fallen hero.
---
We Also Recommend