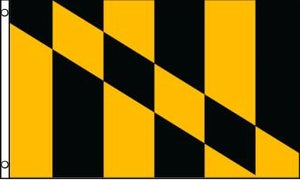 Lord Baltimore Flag
This printed nylon Lord Baltimore flag comes with brass grommets.
100% Made in the USA
The Lord Baltimore Flag combines the black and gold family arms of the Lords Baltimore. This was the flag used to represent the Maryland from the 1600s until the United States was formed and an official flag adopted. The state of Maryland didn't adopt an official state flag until 1904, and that flag includes the Lord Baltimore flag in two quadrants of the current state flag.
---
We Also Recommend